24 Apr

Fun, Family, and Furry Friends at Crocker Park Block Party

Fun, Family, and Furry Friends at Crocker Park Block Party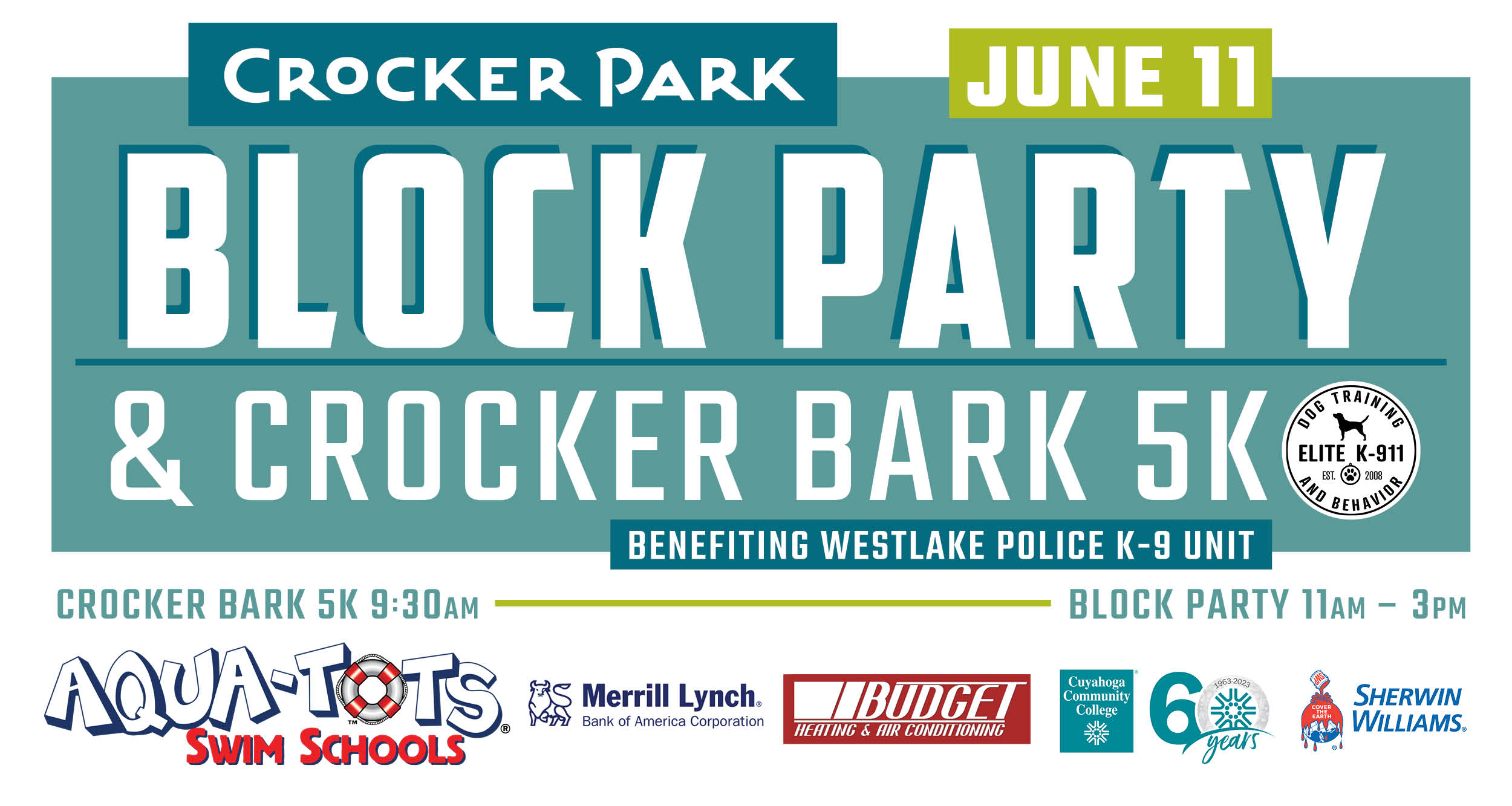 April 17, 2023
Fun, Family, and Furry Friends at Crocker Park Block Party
Westlake Shopping Center to Host 3rd Annual Family Focused Community Event
Kickoff the summer season by attending the 3rd annual Crocker Park Block Party sponsored by Aqua-Tots, Merrill Lynch Westlake, Budget Heating & Air Conditioning, and Cuyahoga Community College Westshore Campus on Sunday, June 11! It's your neighborhood block party, but with so much more. All are welcome to attend this fun, FREE community event!
Kick-starting the daylong event, the Crocker Bark 5K & 1-Mile walk, sponsored by Elite K-911, will begin at 9:30am at Crocker Park's event venue, Market Square. Runners and walkers take a scenic route through Westlake. The race welcomes all to participate with their leashed four-legged friends, and a portion of the proceeds from the registration will benefit the City of Westlake's K9 Unit. At 10:30AM, runners will have a chance to check out the Westlake K9 Unit in action in their first demonstration of the day right on the lawn outside of Market Square.
Following the race from 11am-3pm, all attendees are invited to enjoy the Crocker Park Block Party. There will be fun at every end of Crocker Park with Main Street and Crocker Park Blvd. closed off and lined with festive, family-friendly activites including:
-Meet & greet with the Westlake Police Department & Fire Department
-Touch-A-Truck, where you can get up close and explore inside Westlake's Police Cruisers, SWAT vehicles, bomb squad, command post truck, Westlake Fire trucks, ambulances, and vehicles from several other agencies.
-Safety Seminars and meet and greets with Westlake PD
-K-9 demonstrations at 10:30AM, 11:30AM, 12:30PM and 1:30PM
-Kid-friendly, live music with Foster Brown at 1:30PM
-Face painting & balloon twisting
-Sidewalk chalk zones throughout the park sponsored by Sherwin Williams
-Vendors & Exhibitors
-Giveaways and more
"Crocker Bark & Crocker Park Block Party invites families to enjoy the day together shopping & dining while getting an interactive look at Westlake's safety vehicles and personnel," said Stacie Schmidt, Vice President of Marketing & Communications for Stark Enterprises. "We are so excited to be partnering with so many wonderful organizations and safety departments to bring this fun, free and family-centered event to Crocker Park again this June. We are ready to really kick off the summer, get outside and get together as a community – we invite all to join us!"
Crocker Park Block Party is made possible by fantastic local partners including Aqua-Tots, Merrill Lynch Westlake, Budget Heating & Air Conditioning, and Cuyahoga Community College Westshore Campus. For more information on the event and details on how to sign up for the 5K & 1-Mile walk, visit crockerpark.com/blockparty or follow @CrockerPark on Facebook, Instagram and Twitter.
Interested in being a part of the Crocker Park Block Party? Email advertising@starkenterprises.com for details.