11 Dec

Welcome World Market® & buybuy BABY®

Welcome World Market® and buybuy BABY®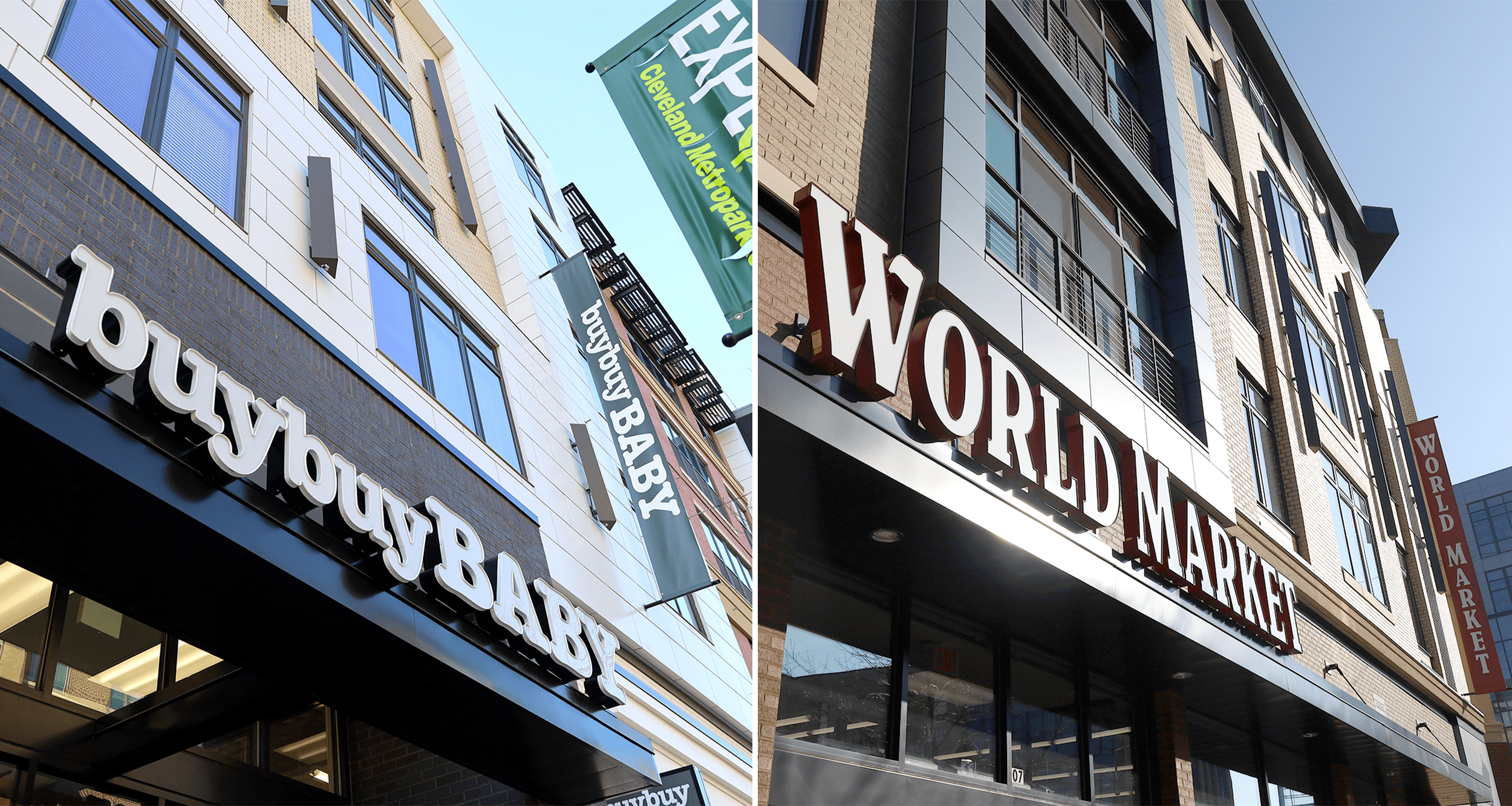 Dec 10, 2020
Crocker Park's Phase 3 Just Got Bigger, Welcome World Market® and buybuy BABY®
Crocker Park is thrilled to announce that within less than a year since announcement, World Market® and buybuy BABY® will be opening over the next week in time for the holiday shopping season. World Market® is set to open Saturday, December 12th, and buybuy BABY® will follow by opening Tuesday, December 15th. Adding to the charm of Crocker Park, both stores will anchor and complete the other end of their most recent expansion, Phase 3, across from American Greetings.
World Market® began in 1958 in San Francisco and has since continued to provide unique, authentic, and affordable items for home décor, home entertaining and gift giving. World Market's selection consists of handmade and one-of-a-kind products imported from across the globe, creating a special collection of items for shoppers to browse on a weekly basis. For more information on World Market® and their story, visit www.worldmarket.com.
"The additions of World Market® and buybuy BABY® to our Phase 3 development will add a new experience for shoppers and visitors and help them find the unique products to fit their lifestyle," said Stacie Schmidt, Vice President of Marketing and Communications for Stark Enterprises. "Both stores have truly stood the test of time and continuously evolve with what their customers want and what fits our everchanging lifestyles. We are so thrilled to welcome them to the Crocker Park family and complete our newest development within the lifestyle center where it really is all happening here!"
CEO of Cost Plus World Market® Jack Schwefel added, "We are very committed to bringing our customers the best possible brick and mortar shopping experience. Our customers love engaging in person with our unique mix of furniture, food, and gifts from around the world and as such we're continuing plans to expand our store count and grow into new areas."
buybuy BABY® will be the first major specialty baby retailer on the West Side of Cleveland and stand at 14,400 square feet located at 302 Main Street. World Market® will continue to provide the unique home décor destination with 18,270 square feet of store space across the street from buybuy BABY® at 313 Main Street.
"As the leading baby specialty retailer in North America, we're committed to providing inspiring, high-quality products, great value across our range, and convenient shopping services to make shopping for your family easy and worry-free," stated John Hartmann, Executive Vice President and Chief Operating Officer of Bed Bath & Beyond and President of buybuy BABY®. "We're pleased to offer Buy-Online-Pickup-In-Store and Curbside Pickup, to make it safe, fast and easy for our new customers to shop confidently and look forward to joining the Westlake community to help local families prepare for every stage of Babyhood™."
buybuy BABY® was founded in 1996 and has 129 other locations across the U.S. and Canada. Their mission is to empower parents with the information and products they need to confidently prepare for, navigate and celebrate a joy-filled life with baby. As the premier baby specialty retailer in North America, each location offers an exceptional selection of products including nursery furniture, gear (car seats, strollers, play yards), monitors, nursing and feeding, consumables (diapers, wipes and formula), safety, toys and apparel. Aside from their high-quality products, the brand provides a full range of services, including furniture delivery, assembly, and an unmatched baby registry experience to help parents through every stage of Babyhood™. Customers can also take advantage of buybuy BABY's 2-hour Buy-Online-Pickup-In-Store, contactless Curbside Pickup, Price Match Promise, Personalized Gifts, Free Registry Goody Bag (in-store). For more information on buybuy BABY®, visit www.buybuybaby.com.
World Market® and buybuy BABY® join Crocker Park's Phase 3 development, built summer of 2014, and completed November 1, 2015. Phase 3 begins at Lululemon and Condado Tacos and additional tenants include Homage, Pandora, Lush Cosmetics, Graeter's Ice Cream, Starbucks, 3 Palms Pizzeria, H&M, Hot Chicken Takeover, Sur La Table, and Orvis. Stay up to date on all the new additions coming to Crocker Park by visiting crockerpark.com and following @CrockerPark on Facebook, Instagram and Twitter.